Esential cleaning products in my cupboard
Tuesday, May 20, 2014 | By Sonia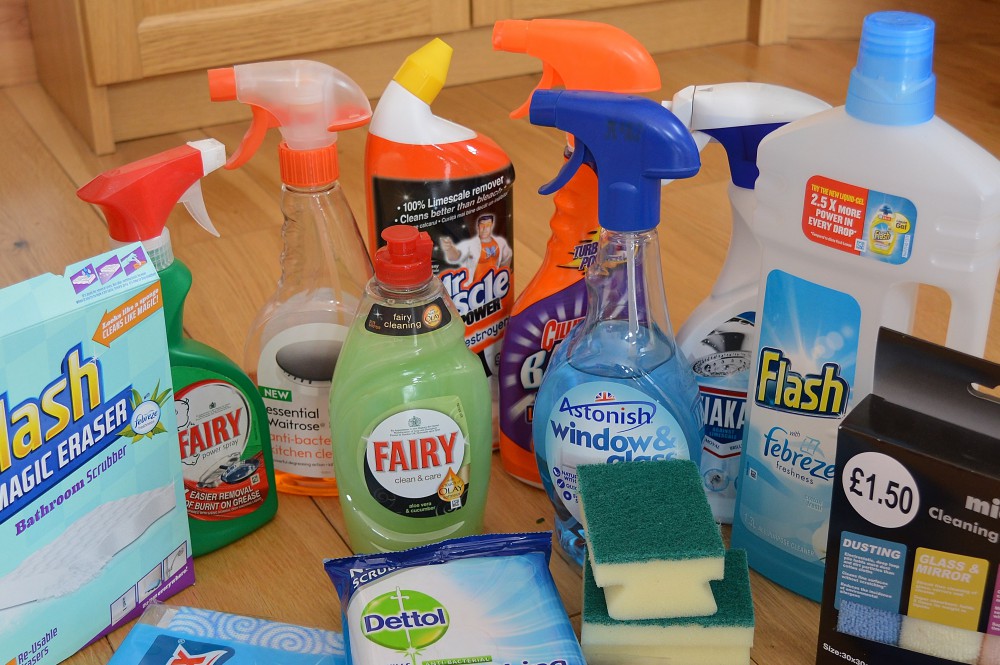 When you book a regular cleaner, it is usually your responsibility to provide the cleaning materials.
There are many cleaning products in the supermarket and all of them claim to "work" and do "magic" so it is difficult to choose what to buy.
Well, it would be wonderful if they all work and do magic, but this is only an advertisement.
Here is my list of essential cleaning materials needed to keep a house nice and clean without filling your cupboard with useless stuff.

For the Bathroom:
A bathroom cleaner- my choice is Cillit Bang Limescale&Shine or Viakal.
A toilet cleaner- any make with limescale remover.

For the Kitchen :
A kitchen cleaner - Antibacterial Cleaner, any make is good.
Washing up liquid -my choice is Fairy liquid.
Oven cleaner - the best one I've tried is Fairy power spray removal of burnt on grease. This spray is for dishes but works very well on ovens too. Just warm the oven, turn it off and spray it. Leave for 10 minutes then wipe.
For the Bedroom and Living room:
Micro fiber cloth, Glass cleaner, Multipurpose cleaner.

For the floors : my choice is Flash all-purpose cleaner .
You also need:
Cleaning cloths, Sponge , Cleaning wipes, Kitchen roll .

Something new I have recently found in the shops is Flash magic eraser, which is really good . You can find this product under different names in the One Pound shop and Home Bargains. It looks like a white sponge. Just wet it, squeeze out any excess water and you can clean anything from doors to taps. It is nontoxic and non-chemical.
Back to Blog